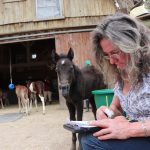 9:00 AM to 5:00 EST
Victoria is very old school, does not use a computer nor does she have a smart phone. So yes, you guessed it this is a land line. And yes, there is an answering machine. And yes, messages are checked. But no, not as often as you'd hope. We really do want to speak with you. Your best bet, keep trying and trying. We get a lot of calls and are quite often busy with foals or horses or visitors or volunteers and almost always on other calls.
PLEASE if you are calling about foals make sure that you have read everything under the Foal Rescue pages, your questions should be answered there. Honestly, we just don't have enough time in a day to walk  everyone through all of the material covered there. So,if you do call before reading everything please don't be offended if we appear to  be a bit short with you and refer you to read the website . Thank you.
FIND US AT
5350 Old Rt 33, Athens OH 45701
SEND US A MESSAGE
We will respond.